Sales: +1 800 963 6221 ext 1
Know

who

is using your Wi-Fi
IronWiFi is a cloud-based comprehensive SaaS management platform that enables Wi-Fi operators to build, operate, grow, and monetize their Wi-Fi business in a scalable way.
With IronWiFi, corporations are able to control access to their networks with advanced authentication mechanisms based on certificates and custom policies.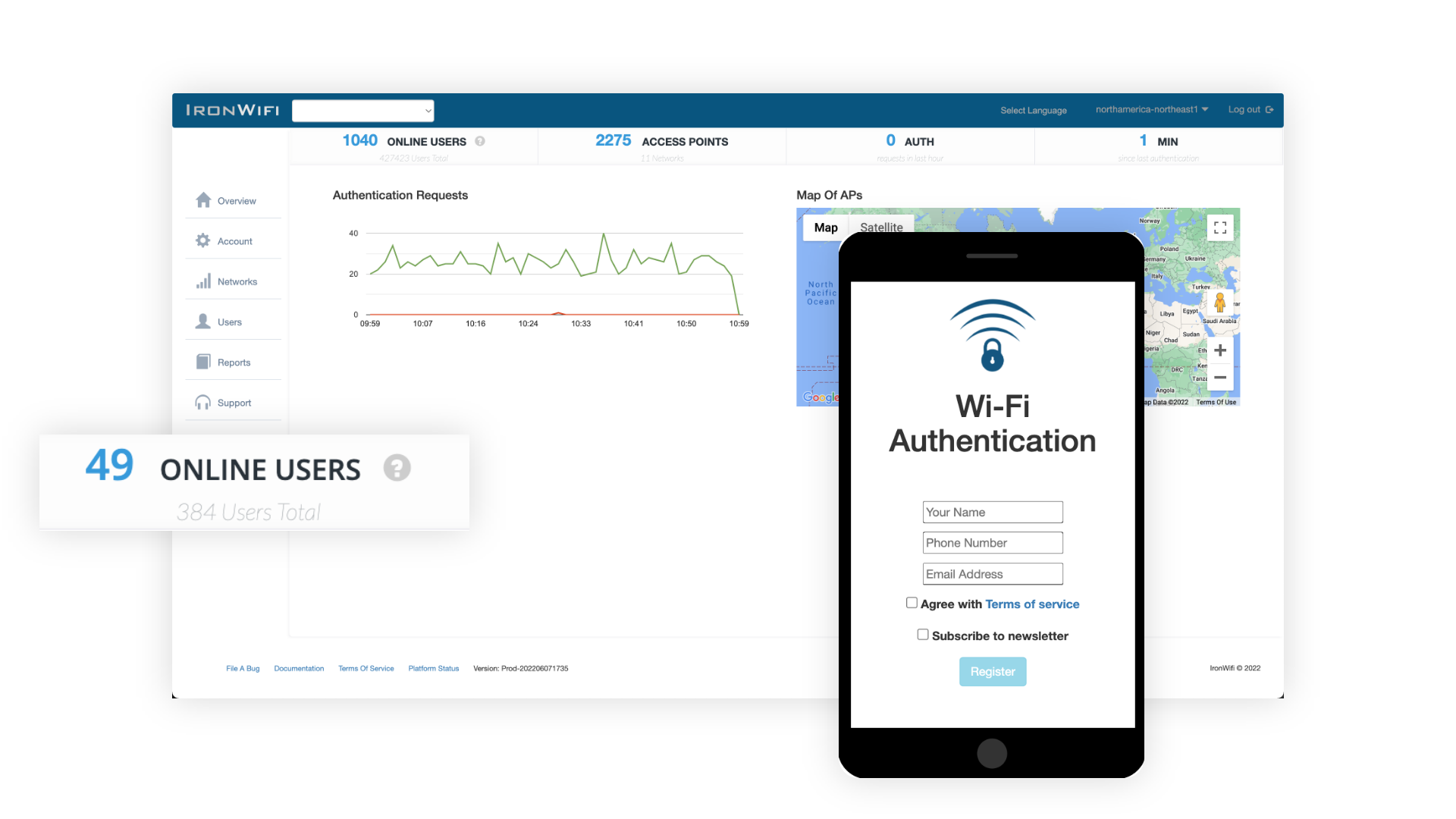 108 Countries
Customers all around the world are protecting their networks with IronWiFi
12000+ RADIUS servers
Hosted AAA RADIUS servers in 15 regions serving millions of requests every day
8000+ Captive Portals
Branded splash pages collecting information about guests and visitors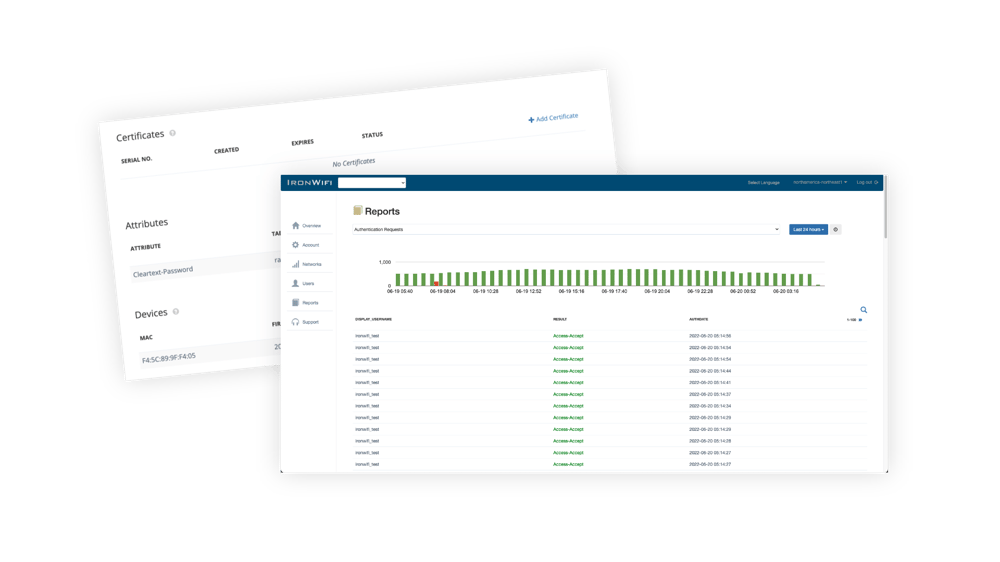 100% CLOUD-BASED PLATFORM
Captive Portal for your Guests
IronWiFi offers advanced Captive Portal that will help you quickly turn your Wi-Fi into a revenue stream and collect valuable visitor data. You can customize the portal pages to support your brand and fit your needs.
WPA-Enterprise for your Employees
The IronWiFi service helps you protect your network with strong authentication and advanced policies. Use client and user certificates to securely authenticate your employees and IoT devices. Service is compatible with external IdPs like OKTA, Azure, and Google Workspaces.
CAPTIVE PORTALS
Splash pages are 100% customizable to support communication with your customers. There are several authentication methods available, including social login, paid access, vouchers, and REST API.
RADIUS as a Service
Distributed RADIUS servers handle authentication and accounting requests. These servers support thousands of vendor attributes, CoA, data and time limits.
OSU and SCEP
Online Signup Servers that are compatible with OpenRoaming and custom Identity Providers. Easy deployment of certificates through SCEP servers.
Roaming and Offload
Offload mobile traffic to improve user experience and network coverage. Passpoint profiles from IronWiFi provide reliable and seamless authentication.
Subscription plans based on the number of users or access points. There are no hidden or additional fees.
Your guests' data belongs to you, and we will never give it to third parties.
Select the region where all your data will be processed and stored.
Easy onboarding and secure reauthentication using Passpoint profiles on client devices.
We offer onboarding and setup support at your convenience.
Our RADIUS servers span multiple regions and are monitored 24/7 to ensure maximum stability and performance.
Over 45 different vendors are supported, and you do not need to purchase additional hardware or install custom firmware.
Automate the process of downloading data, creating user accounts, and connecting to external systems.
Utilize your favorite CMS, analytics tool, collect payments, connect to your PMS, and send OTPs.
Before making a decision, check all the features. There are no restrictions during the free trial.
Secure and convenient access to thousands of OpenRoaming networks worldwide.
Compliance with data processing and security requirements.
Monitoring and controlling access to both networks - the network for your guests and the network for your employees - from one platform.
You can include your logo, change colors, and even run the splash pages on your own domain.
Role-based Access Control
Give your team members custom permissions. Use custom attributes and policies to authorize sessions.
An intuitive management interface that you'll master in a matter of minutes.
TESTIMONIALS
What our customers say
"Needless to say we are extremely satisfied with the results. Thanks guys, keep up the good work! Your Captive Portal is great. Your solution has really helped our business."
"I would also like to say thank you to all your staff. I love IronWiFi. Your platform was worth a fortune to my company."
"We are always looking for ways to improve our customers' experiences, and this new service will help us achieve that goal."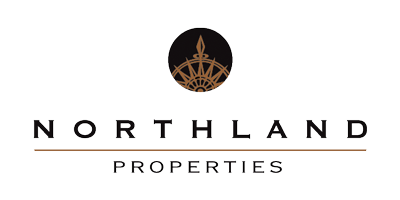 BACKGROUND
Recognized throughout Canada as one of the most trusted names in hotels, restaurants, sports and construction. Northland Properties Corporation is the force behind such brands as Sandman Hotel Group, the Sutton Place Hotels, King blue Hotel Toronto, Moxies, Chop Steakhouse&Bar, Denny's restaurants and The Dallas Stars.
GOALS
Northland Needed a Wi-Fi Platform that had individualized splash pages for 17 brands, collected market data on users and complied with all privacy laws in five countries across 300 locations.
STRATEGY
IronWiFi began with a consultation and then provided an introduction to the platform, and help with the initial customization and design of the workflow. We then assisted in the setup of the exporting of marketing data in the form of weekly reports. Our team remined available for any troubleshooting needs during initial setup. Time from consultation to execution across all locations was one month.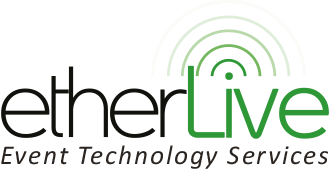 BACKGROUND
Etherlive is an event technology services company that provides high speed internet, Wi-Fi coverage, HD CCTV, and payments terminals to some of the worlds biggest events. Their clients include Amazon, the London 2012 Olympics, UCI Cycling Championship, Volvo Ocean Race, American's Cup & the Royal Winsor Horse Show.
GOALS
Etherlive needed a Wi-Fi Platform that was reliable and customizable so they could easily set up new branded splash pages at events. They wanted to be able to offer brand awareness for their customer, the ability to control access per person, and to be able to collect user data for the client to generate revenue.
STRATEGY
IronWiFi began with a consultation and then provided the in-house engineers with an introduction to the platform, educated them on how to create splash pages, and walked them through the data collection process. Afterwards IronWiFi remained available for troubleshooting as they practiced dry runs ath their headquarters in a preparation of a live event. Time from initial consultation to full staff training an implementation was two weeks.
It takes less than 5 minutes to get started with IronWiFi:
Set up an IronWiFi account
We only need your name, email address, phone number, and a secure password.
Configure your Wireless Access Points
The access points should be configured to use IronWiFi's authentication service.
Set up monitoring and reporting
Take a moment to explore the app and give IronWiFi a few minutes to begin processing your requests.