How to avoid displaying the "Not Trusted" error message to clients?
This issue only relates to iOS devices / clients
This is standard behaviour, when connecting to a wireless network for the first time, the client device does not know what RADIUS server will process its requests. That is why the client considers the server "Not Trusted".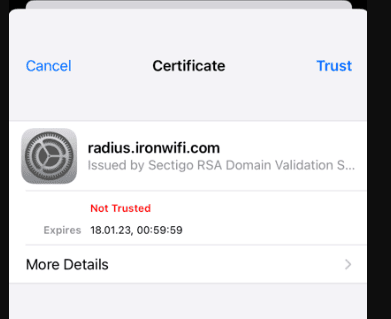 This error message can be avoided by installing a wireless profile on the client device.
How To Install a Wireless Profile?
Below are screenshots showing the process of installing a wireless profile to an iOS device. This particular profile enables clients to connect to the OpenRoaming wireless networks, however, the process remains the same for any other wireless profile.